Crowley Maritime Corporation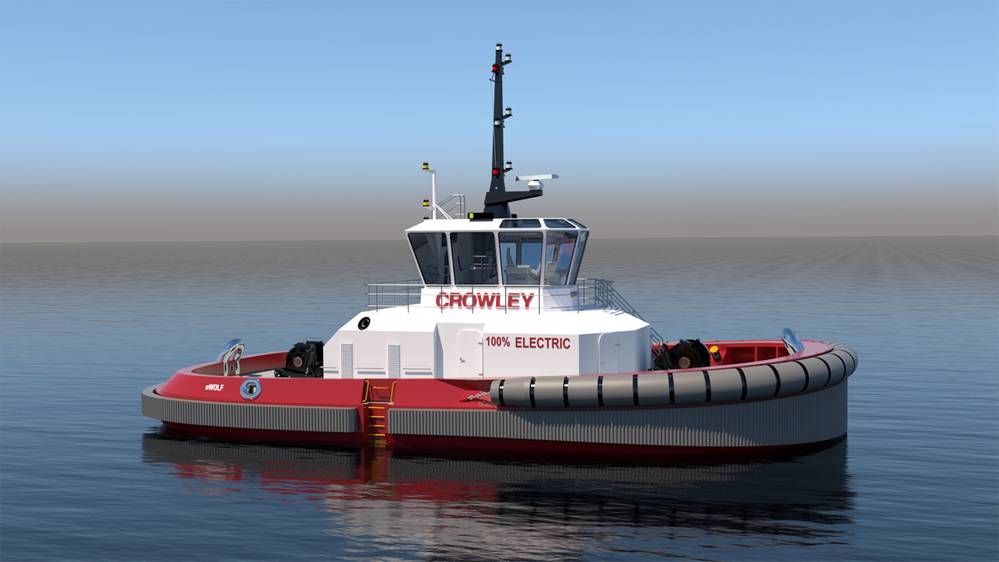 Crowley is a U.S.-owned and -operated marine solutions, energy and logistics services company that provides services in domestic and international markets. The company was launched in 1892, by founder Thomas Crowley - the grandfather of current Chairman and CEO Thomas B. Crowley Jr. - and is now wholly and privately owned by the Crowley family and Crowley employees. Today, Tom Crowley and his leadership team direct a company with more than $2 billion in annual revenues, approximately 5,300 employees and a fl eet of about 200 vessels.
Crowley Maritime Corporation in July announced plans to build and operate an all-electric powered harbor tugboat capable of completing a job without expending a drop of fuel—a fi rst in the U.S. The 82-foot-long vessel, dubbed eWolf, will be built by Master Boat Builders in Coden, Ala. and operational at the Port of San Diego's Tenth Avenue Marine Terminal by mid-2023 and comes as Crowley and the maritime industry continue to make strides toward sustainability and decarbonization. Over the fi rst 10 years of its use, the operation of the new e-tug will reduce 178 tons of nitrogen oxide (NOx), 2.5 tons of diesel particulate matter, and 3,100 metric tons of carbon dioxide (CO2) versus a conventional tug, according to Crowley, adding that the electric tug will replace one that consumes more than 30,000 gallons of diesel per year.
The company is also making a strong push into the burgeoning U.S. offshore wind industry. Crowley, which announced the formation of its New Energy division in January, said many of its existing U.S.-fl agged vessel assets, engineering and logistics services could quickly and easily pivot to support the offshore wind industry. In March, Crowley announced it is teaming up with Danish shipping company ESVAGT to build and operate purpose-built, Jones Act vessels to support the emerging U.S. offshore wind market.