All American Marine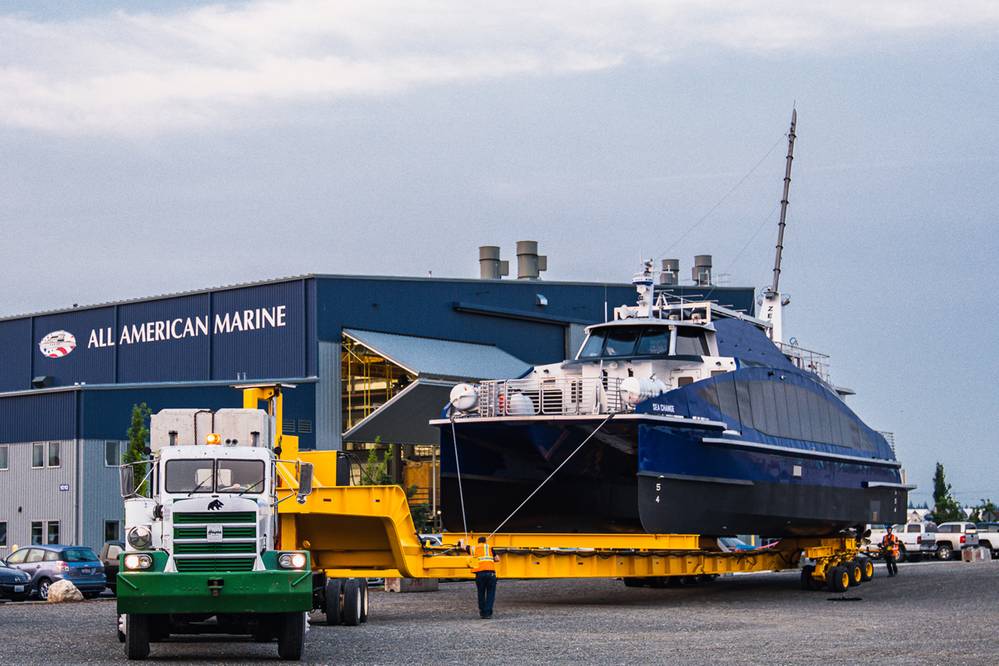 All American Marine got its start more than 30 years ago specializing in the construction of aluminum fi shing vessels used from California to Alaska. But the Pacifi c Northwest boatbuilder adapted to changing markets in the '90s, and today it is a builder of custom-tailored aluminum highspeed passenger boats, hybrid vessels, dinner cruise boats, patrol and research vessels. In 2017, AAM relocated to a new state-of-the-art facility in Bellingham, Wash., where all of its vessels are built in a 57,000 sq. ft. production facility adjacent to Bellingham Bay. The production shop contains seven overhead bridge cranes, a brake press, shear, CNC router cutter and a laser-leveled construction platform.
AAM has exclusive North American building rights with one of the world's top naval architects and designers, Nic de Waal of Teknicraft Design, in Auckland, New Zealand. The unique Teknicraft design incorporates the use of a cutting-edge hull shape and an optional hydrofoil system in catamarans to create lift and enhance vessel performance. Unique design characteristics ensure high-speed travel, ultra-low wake, industry-leading fuel effi ciency, and all fully customizable depending on the application.
All American Marine recently launched Sea Change, a 70-foot, 75-passenger zero-emissions, hydrogen fuel cellpowered ferry that will operate in the California Bay Area. This will be the fi rst hydrogen fuel cell vessel in the U.S., representing a monumental step in the U.S. maritime industry's transition to a sustainable future. The ferry was developed to demonstrate a pathway to commercialization for zero-emission hydrogen fuel cell marine technologies. The completed ferry will exhibit the viability of this zerocarbon ship propulsion technology for the commercial and regulatory communities.